Automobile tattoos are a type of tattoo art that has been around for 50-70 years. They are a big part of American traditional tattoo culture. That's one of the reasons why we can say that they are a part of the recent tattoo history.
For a lot of people, there is nothing better than seeing an inked guy or girl walking down the street. To those people, the body is a canvas, which is prepared to accept the work of a needle-wielding artisan in exchange for a fistful of cash, as well as a few hours of pain.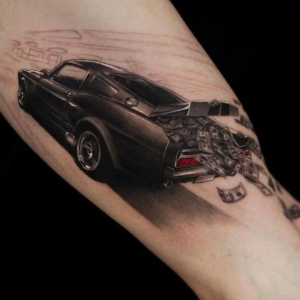 Tattoos are a form of body modification. One tattoo artist, John Motyka, who is also the owner of three shops in suburban Detroit, said:
"What tattoo could be greater than a cool vehicle made in Detroit? I think that there is a direct connection between building a car and creating a tattoo: It takes much time, a lot of nuts and bolts, as well as maneuvers with hand and machine."
According to John, basic tattoo takes about two to three hours to be made, and with all of the bells, as well as signals and nuances and shadow effects, it can take about four to five hours.
When used in tattoo art, automobiles, as well as vehicles of some other types, are a typical symbol of the work, pastime, or hobby of a person. Sometimes luxury cars and sometimes Mack Truck, or maybe a pickup, vehicles are most of the time shown in motion – in fact, at very high speed.
Automobile tattoos, as well as tattoos of some other vehicles, seem to be increasing all of the time, according to the leading tattoo artist John Motyka. Some of the most memorable car tattoos which tattoo artists have made is a '56 Oldsmobile, a '56 Chevrolet Bel Air Skyline, and a '55 Bel Air with flames.
Definitely, it has been proven that men get more car tattoos than women. But, in the case when women get a tattoo of that kind, they usually get Mustang or Ferrari because they like horses in the logo, said Motyka.
Such automobile tattoos, just like animal tattoos, can sometimes become a metaphor for us or our desires. They can also be connected with "fast living" and a certain recklessness, or "living in the fast lane."