Because of its symbolic virility, force, and unyielding temperament, the bull has long held an iconic place among different cultures around the world. This animal was considered a sacred animal in ancient Mesopotamia, Greece, Rome, as well as Egypt, to name a few. It was common to see the bull being offered as a blood sacrifice in these cultures, while the Celts and Druids regarded it as a powerful aid n fertility, tribal protection, as well as wealth.
In Celtic culture, many bull symbols can be found, as it has been a very prominent animal in the clan. Bulls presented physical strength and power. On the other hand, Druids connected the bull with solar energy while the female cow with earth energy. The bull was also considered as a symbol of great luxury, wealth, as well as the provision by the later Celts. Indeed, cattle were also a source of income, as well as supply in a lot of different forms – a way of life for the Celts for centuries.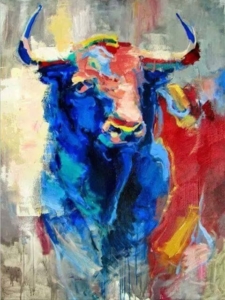 This is an animal symbol of great importance, going back to the earliest cave drawings of humanity in the Paleolithic era. Bulls are images and symbols of great strength and vitality. For the ancient Greeks, bulls represented the unleashing of uncontrolled violence. For the Egyptians, he was a creative force, and in Jungian analysis, the bull is unchecked power where the allure of bullfighting is a secret wish to tame the beast within us all.
In astrology, the sign of Taurus is also depicted as the bull, with some worthy characteristics, which include pride, stubbornness, dependability, as well as creature comforts.
These tattoos can be complex and multi-colored tribute spanning a space of flesh, or be a simple black outlive studying a wrist, arm, or shoulder. Some of the symbolism and meaning that bull tattoos have is:
Stability;
Virility;
Stamina;
Strength;
Confidence;
Fertility;
Determination;
Helpfulness and a lot more.
"Be stubborn and persist, and trust yourself on what you love. You have to trust what you love."