Anubis the god of the dead and mummification, sometimes referred to as the Egyptian jackal-headed figure,  symbolizes the optimistic side of death, focusing on peace, protection, as well as respect which comes with it. Anubis was the son of Nephthys and his father was Osiris. According to one myth, Nephthys got Osiris drunk and the resultant seduction brought forth Anubis. Yet, according to another myth, she disguised herself as Isis and seduced Osiris, and after that, she gave birth to Anubis.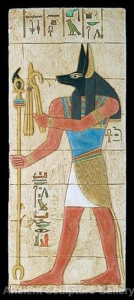 This god had three important functions: he presided over the embalming process and the judgment of the dead, monitoring the Scales of Truth in order to protect them from deception and eternal death. This is also the god of embalming who can be associated with the already mentioned jackal, not just because it was an animal of intelligence but also because it would be a usual thing to have seen the jackal around cemetery and tomb areas in Egypt. Just like foxes and coyotes, jackals are usually represented as clever wizards in the writings of their regions.
In worshipping Anubis, Egyptians transformed their desire in order to keep their safe bodies of the deceased, having the desire for the preservation of the body for eternity.
This god is portrayed as a man with the head of a jackal holding the divine scepter carried by kings and gods; he was depicted in black, a color which symbolizes both rebirth and discoloration of the corpse after embalming. This god is associated with Wepwawet, also called Upuaut, who is another Egyptian god that was portrayed with a head of a dog or in canine form, but with having grey or white fur. His symbolism was a black and white ox-hide splattered with blood and hanging from a pole. Its meaning is still unknown.
Anubis is a popular Egyptian design and the collection of Anubis tattoos features some of the best.